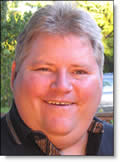 James has been involved in affiliate marketing for coming up on ten years now.
Along the way, he's not only used affiliate marketing to create a handsome living and enviable lifestyle for himself and his family, he's also helped hundreds of people jump the gap from newbie to full time affiliate
marketer.
Affiliate marketing is as close to  a "pure" play in Internet marketing as you can get. You never handle product or customer service so your focus is entirely on getting traffic and converting visitors. Because of this, top affiliate marketers like James have great insight into what works and what doesn't in online marketing.