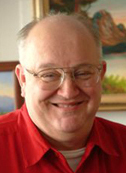 He almost gave up.
He spent a year working on his business and didn't even
clear $5,000. His exposure to the Internet marketing "gurus" not only didn't help, it also left him more confused than ever.
Then a friend suggested he attend a System Seminar
training event.
Within less than a year,  Darrell had his first $20,000
month. More important, he learned to put his business on solid ground so that his success is sustainable.
On this call, Darrell and I talk about what really works in business and what's sustainable – and what's not.
If the "gurus" have your head spinning too, this might be the most valuable call of the whole Pre-System Seminar series for you. And there's a remarkable, very special, no-strings attached offer at the end of the call.