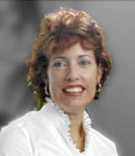 Nancy Andrews – Pulling back the curtain on
the biggest opportunity online
Info marketing is a great business, but it represents only the tiniest fraction of the total amount of sales that take place online.
People buy "stuff" online…physical products… hard goods. In fact, if you look at the top 500 online businesses on earth, you won't find one info marketer.
For many folks, it's actually much easier to start a successful online store than it is to create an info business.
Nancy and her husband Bob started and run a very successful online store and in this call, she shares practically everything you need to know to enter this business profitably.